Carwiz International – a proud sponsor of the International Car Rental Show!
Carwiz Affiliate program - the fastest way to boost your business!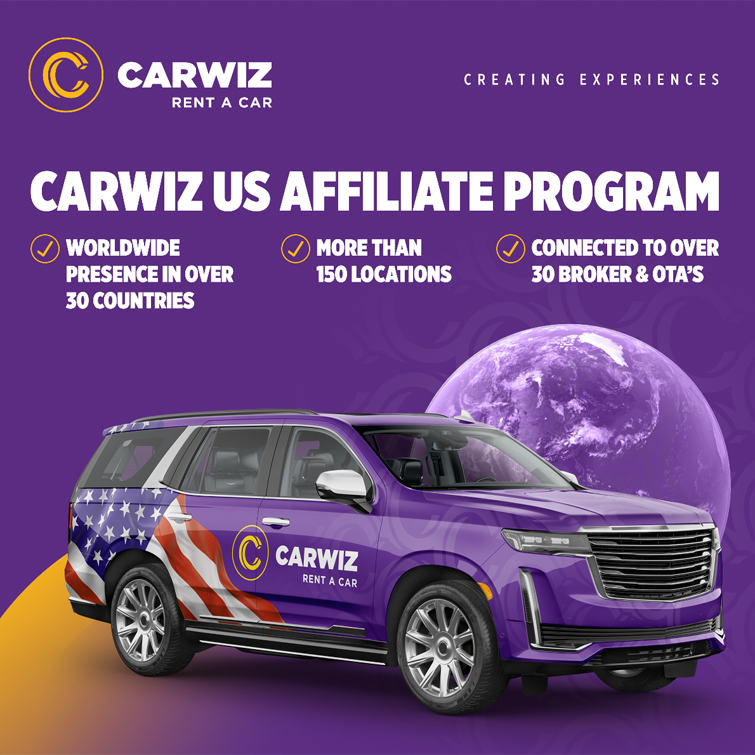 CARWIZ International will represent the U.S. Affiliate business model at the world's largest global car rental and car industry fair, the International Car Rental Show, in Las Vegas from April 24 to 26.
This year's sponsorship puts Carwiz alongside the most prominent players in the car rental industry worldwide, showcasing the success of our business model recognized in over 30 countries.
Visitors interested in becoming a Carwiz Affiliate Partner can discover the numerous benefits of our Affiliate Program, which offers a quick and easy way to improve their business and generate additional revenue while maintaining their independence.
With one of the lowest per-booking fees in the industry, flexible territory rights, support for multiple locations, a powerful and cost-effective front counter/booking engine, prime locations in the market, and strategic partnerships with major online agencies and brokers such as Expedia, Booking.com, Kayak, and more, our affiliate partners are guaranteed the best possible position in the market. In addition, our partners have access to value-added services offered exclusively by Carwiz, such as tailor-made rate management, claims management, fleet planning, telematics, and business consulting with top experts in the car rental industry.
At our spacious exhibition booth #315, the Carwiz team will strengthen existing strategic partnerships and establish new ones. Guests and visitors can make connections, forge new acquaintances, and strike business deals.
Furthermore, Carwiz will showcase its new partnerships with Zubie and Rate Highway, which provide our existing and future affiliate partners with additional and proven fleet tracking tools in real-time and more effective pricing strategies in response to market conditions. This further enhances CARWIZ International's offerings and guarantees to improve our affiliates' business.
The International Car Rental Show is the global marketplace for the car rental industry, attracting attendees from over 40 countries. The show offers insights into the latest trends, technology, products, and services designed to elevate your business to the next level. It's the place to be.
We look forward to seeing you at booth #315!