SAFE DRIVING
Tips for renting a car for the summer
Welcome to summer with CARWIZ International! Here are five awesome tips for creating an unforgettable car rental experience.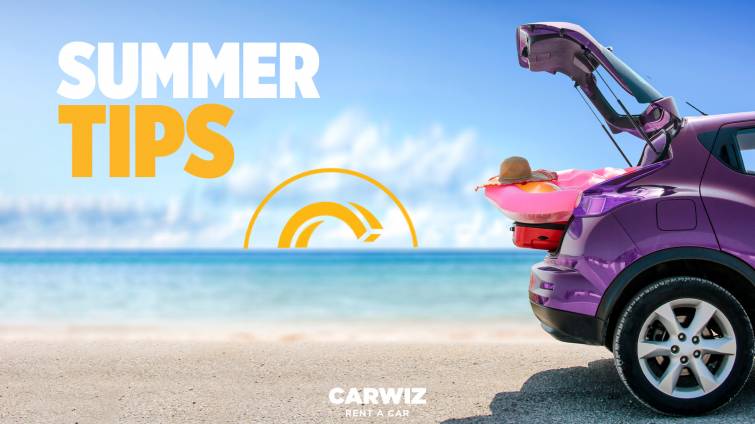 Explore Hidden Gems:
Use your rented car to discover hidden treasures off the beaten path. Research lesser-known attractions, picturesque viewpoints, or charming local restaurants. Don't be afraid to venture beyond the popular tourist spots and create experiences.
Embrace the Beach Life:
Enjoy the sunny season by visiting stunning beaches and coastal destinations. Pack your beach essentials, rent a car with ample booth space, and enjoy a day filled with sun, sand, and surf. Remember to bring sunscreen and plenty of water!
Chase Sunsets:
Summer evenings are perfect for chasing breathtaking sunsets. Research scenic spots near your location and plan a road trip to witness nature's colourful spectacle. Grab a cosy blanket, and some snacks, and let the beauty of dusk unfold before your eyes.
Plan Picnics:
Renting a car opens endless possibilities for picnics. Pack a picnic basket with your favourite treats and head to a nearby park, lake, or mountainside. Enjoy the tranquillity and bond with loved ones over a delightful outdoor meal.
Stay Hydrated and Refreshed:
Summer heat can be intense, so staying hydrated is crucial. Keep a cooler in your rented car filled with cold drinks and refreshing snacks to energise you during your journeys. Opt for water, juices, and healthy snacks to beat the heat and maintain your energy levels.
Extra tip: Drive carefully!
Following traffic laws, using a seatbelt, avoiding distractions like texting or eating, and remaining alert and concentrated on driving are all essential components of safe driving. Additionally, it requires keeping a safe distance from other vehicles and modifying your speed in response to the state of the road. You can help prevent accidents and safeguard yourself and other road users by adopting safe driving practices. 
Remember to document your summer adventures and share them with us using #CARWIZSummer! Enjoy the sun-soaked roads, embrace the freedom of exploration, and make this summer one to remember!