Carwiz enhances its global standing at the International Car Rental Show in Las Vegas
The recently staged International Car Rental Show (ICRS) in Las Vegas gave Carwiz an opportunity to do more than just mingle with industry peers.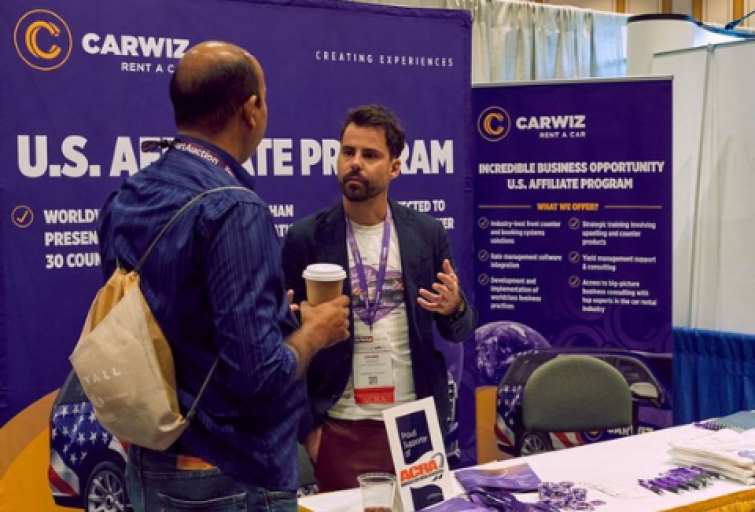 The three-day event and expo at Paris Hotel & Casino further solidified the European-based company's reputation as a solutions-oriented brand—one that's providing independent car businesses from around the world with the tools needed to thrive like never before.
The innovative advances provided by its game-changing Affiliate Program positioned Carwiz as an authority on several of the issues addressed during an event billed as the global marketplace for the car rental industry. This year, more than 800 attendees from some 40 countries—one of the ICRS's most successful expos since the mid-2000s—descended on the Vegas resort that boasts a replica of the Eiffel Tower.
Attendees sought out the experts at Carwiz, a silver sponsor at ICRS, for insights connected to the process of fleet acquisition, assistance with financing a fleet, the challenges of fleet management in a tight-supply/high-mileage environment, how new technologies can reframe the customer experience—and other topics discussed at the expo that are especially important to independent operators.
"The proven success of our Affiliate and Franchise Program—which is now available in more than 30 countries—has helped to establish Carwiz as a go-to source for these types of challenges," said Frane Herceg, Head of Affiliate Network Development for Carwiz.
A huge interest in the Carwiz Affiliate Program resulted in signing the affiliate agreement at ICRS with independent car companies based in San Diego (two locations), Los Angeles and Brooklyn, New York!
New Affilaite from San Diego, SD Rental Auto Corporation will operate in two locations:
San Diego city and San Diego International Airport (SAN).They have been operating for two years, with more than 100 vehicles.
In Los Angeles, Sakura Rent A Car, with head office located at Los Angeles, CA 90045, USA, will operate at Los Angeles International Airport (LAX). They have been operating for 20 years with more than 250 vehicles.
And in Brooklyn NY, Key Car Rental with head office located at Brooklyn NY, USA, will operate at Brooklynn city location, with more than 60 vehicles. 
"We were honored not only to participate in this year's International Car Rental Show and engage with other leaders about the future of our industry - but to meet with so many wonderful people who expressed interest in the Affiliate Program."
Several of those encounters led to partnerships that added to Carwiz's already significant North American footprint. Since embarking on a global expansion plan in 2019, Carwiz has raised its total number of offices to more than 150. Dates for the 2023 International Car Rental already have been announced. The event will return to Paris Las Vegas Hotel & Casino from April 16-18.
About the Carwiz Affiliate Program
The Carwiz Affiliate Program was designed to provide an affordable option that delivers on its promise of increased growth and profitability to independent car rental companies. To help affiliates realize that goal, Carwiz offers innovative support and value-added services in a variety of segments—everything from front counter and booking systems solutions to new product development, strategic sales training and much more. In addition, affiliates will have access to Carwiz's sprawling network of internet brokers and online travel agents. For more information on Carwiz and its affiliate program, visit www.carwiz.rent