Carwiz International signed a contract renewal with Carwiz Serbia
Carwiz continues with the franchise in Serbia after four successful years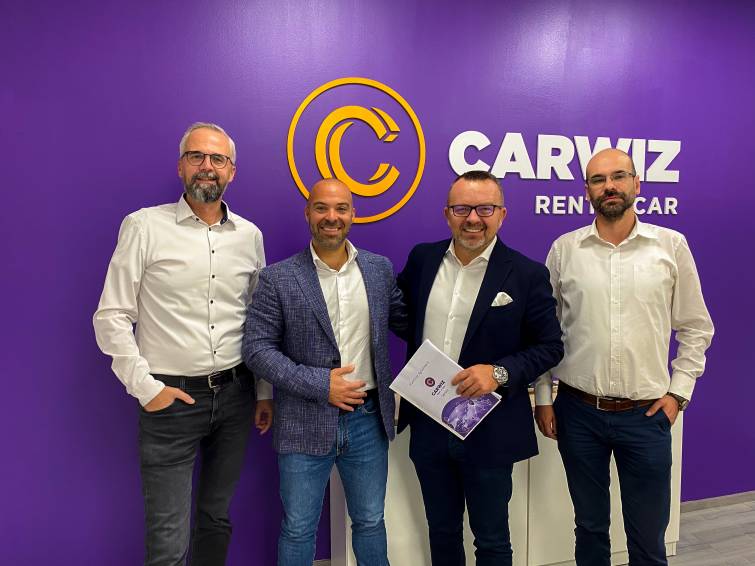 After four years of successful cooperation, Carwiz Serbia continues the partnership with Carwiz International as both sides concluded that renewal of the contract is the best strategic move for the future. 
Carwiz Serbia became a franchise country at the end of 2018, which makes them the second franchise branch since Carwiz started its international expansion. 
Saša Romčević and Dimitrije Jovanović, directors of the Carwiz Serbia franchise branch, owned a local rent-a-car service, but completely embraced the Carwiz brand and achieved extraordinary results. Initially, they started with a fleet of 50 vehicles. Today, four years later, Carwiz Serbia counts more than 600 vehicles, which ranks them in the top 3 rent-a-car brands in Serbia. In addition, Carwiz Serbia took up the leadership of Carwiz North Macedonia this year. 
Saša and Dimitrije, traveled to Carwiz International headquarters, to sign a renewal of the contract and discuss plans for the future. We presented them with a new business model, which they were delighted with. 
"We are ecstatic to be continuing our partnership with Carwiz International because together we successfully established stability and efficiency, adapted the service to the new conditions, and satisfied all of the needs and wishes of clients, which we are extremely proud of. ", stated Saša Romčević. 
Dimitrije Jovanović said "Being a part of the Carwiz family has proven to be a safe and successful business decision. Doing business under the Carwiz brand resulted in positioning us in the top 3 rent-a-car brands in Serbia, and we can't express how satisfied we are with that result. Of course, the goal is to be the best."
We are proud of the satisfaction our franchisees have with us and we are glad to know that they will stay with us for many years to come, continue strengthening the brand, developing the business, and being one of the Carwiz family.
"We approach each franchise individually, respecting their values. The Carwiz franchise system does not work in a way that we "take over", instead we embrace their values, which we skilfully combine with the Carwiz vision. All this results in extremely satisfied franchisors who will stay with us for many years." stated our CEO, Krešimir Dobrilović, and then added, "Carwiz Serbia is an excellent example of what happens when there is mutual trust and respect. Accepting the Carwiz brand values resulted in perpetual growth and stability in the Serbia branch. Their achievements over the years best prove the value and weight of the Carwiz brand."