HELLO GEORGIA: CARWIZ EXPANDS OPERATIONS INTO THE CAUCASUS
Carwiz is furthering its presence in Georgia after its recent establishment in Hungary, Italy, Kenya, and Jamaica.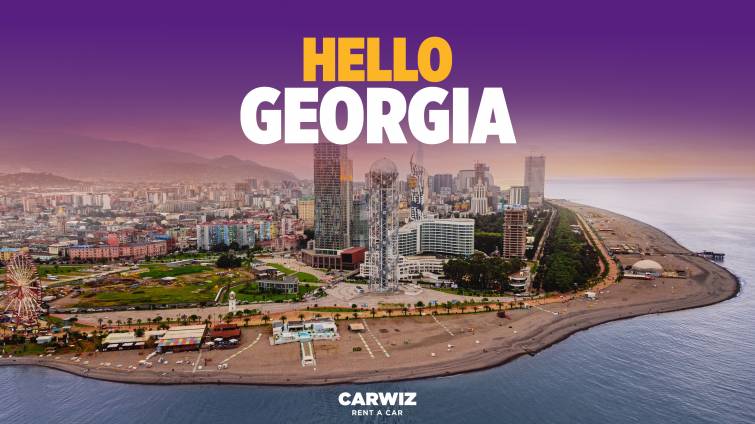 Tbilisi, 6th of September 2023 – Carwiz, the globally acclaimed rent-a-car company, is happy to announce its entry into the market of Georgia. This move underscores its commitment to offering world-class car rental services worldwide. 
 Carwiz is furthering its presence in Georgia after its recent establishment in Hungary, Italy, Kenya, and Jamaica.
 Georgia, nestled in the heart of the Caucasus, is known for its diverse landscapes, rich cultural heritage, and warm hospitality. This strategically chosen expansion into Georgia aligns with Carwiz's mission to provide seamless and enjoyable car rental experiences, enhancing the travel adventures of both leisure and business travellers exploring this enchanting European destination.
 Carwiz has expanded its operations in Georgia and has multiple service locations nationwide. Travellers arriving at Tbilisi International Airport, Kutaisi International Airport, and Batumi International Airport can easily access Carwiz's services. These convenient locations ensure that customers have easy and timely access to Carwiz's reliable fleet of vehicles, whether arriving in the bustling capital city of Tbilisi, the picturesque town of Kutaisi, or the vibrant coastal city of Batumi.
Vladimir Banović, COO of CARWIZ International, expressed his excitement about this significant expansion, stating, "I am thrilled to share with you that Carwiz has officially entered the Georgian market. This marks a significant achievement in our global journey as we introduce our premium car rental services to customers who wish to explore Georgia's breathtaking landscapes and vibrant culture. Our goal is to surpass customer expectations and deliver unforgettable experiences for car renters in Georgia."
 Carwiz has recently expanded into Georgia, building on its success in Hungary, Italy, Kenya, and Jamaica, demonstrating the company's dedication to exceptional customer service and global growth.
 Carwiz is known for its high level of professionalism, quality service, and personalized attention to customers in Georgia. With a wide range of well-maintained vehicles, easy pickup and drop-off services, and a team of experienced professionals, Carwiz is committed to providing exceptional travel experiences in Georgia.
For more information about Carwiz and its services in Georgia, please visit carwiz.rent
Stay updated on the latest news and announcements by following Carwiz on @carwizinternational
About Carwiz:
Carwiz is a dynamic rent-a-car company founded in 2017. Since its inception, Carwiz has rapidly expanded its operations worldwide, establishing a strong presence in numerous countries. With a steadfast focus on delivering exceptional customer experiences, Carwiz provides flexible and reliable car rental services, ensuring the utmost satisfaction of its customers in every destination.
Media Contact:
Fran Brdar, Head of Marketing, CARWIZ International, fran.brdar@carwiz.rent