Destinations
Santorini
Of all the Greek islands, and there are thousands of them, Santorini is probably the one we all dream of visiting.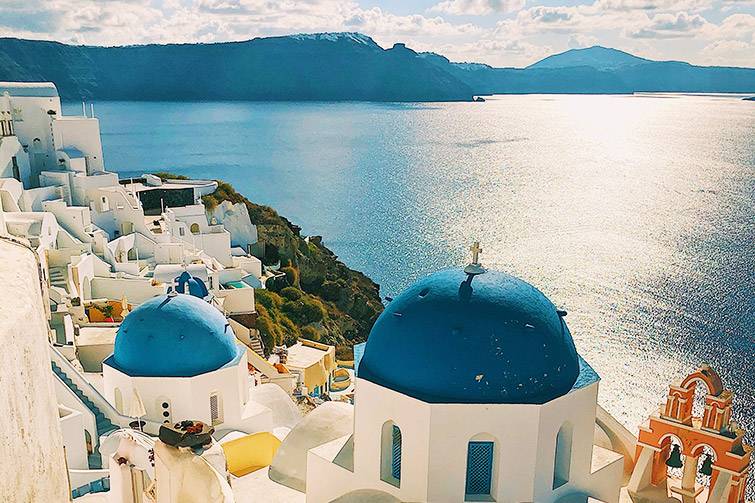 This island is considered one of the most beautiful in Greece and owes its present appearance to a large volcanic eruption which resulted in white, black and red beaches, and cliffs overlooking a volcanic caldera filled with water.
On Santorini, it's not difficult to find a terrace with a beautiful view where you can drink wine and watch the sunset. The whole island can be toured in 45 minutes by car, and most hotels, restaurants and attractions are located in the two main destinations; Fira and Oia, recognizable by their unique architecture.
Fira, the largest village on the island, is a major touristic centre full of restaurants, bars, clubs and places to shop. One of the more interesting things worth visiting in Fira is the descent down the 587 stairs to the port where you can enjoy local food. Go back with the funicular which will cost you 5 €. 
10 kilometres away from Fira, there's another popular village: Oia. White chalk houses, churches with blue domes and windmills make Oia the most picturesque village on Santorini. Don't forget to visit The Castle of Oia, where you can enjoy the sunset and have an opportunity for the perfect photo. On a walk through the narrow streets, stop by handmade jewellery galleries such as the Mnemossyne Gallery, and close by there's another set of steps, this time 'only' 300 of them, leading to Amoudi Bay below Oia.
In addition to wonderful villages, Santorini offers a multitude of beaches that are completely different from any other Greek beach. The beaches of Santorini have volcanic sand and are located at the foot of steep cliffs. The most famous beach is Red Beach, 11 km southwest of Fira, near Akrotiri; a prehistoric city from the Bronze Age, today an archaeological site which you should definitely check out! 
To complete the Santorini experience, be sure to try all the Greek dishes the island has to offer. In addition to the well-known gyros and souvlaki, it is worth trying saganaki - fried cheese in a dough topped with honey, spanakopita - spinach pie and tomato fritters- Domatokeftedes. After a tasty meal, treat yourself to a glass of Santorini wine, which, thanks to its unique taste, is often considered the best wine in all of Greece.
Embark on an exciting adventure through this volcanic island with Carwiz Santorini and keep creating unforgettable experiences!