DESTINATIONS
The Charming City: Ljubljana
Located in the middle of the country, Ljubljana, the capital of Slovenia, is a charming town. This hidden gem has a lovely riverfront, a beautiful old town, and vibrant architecture.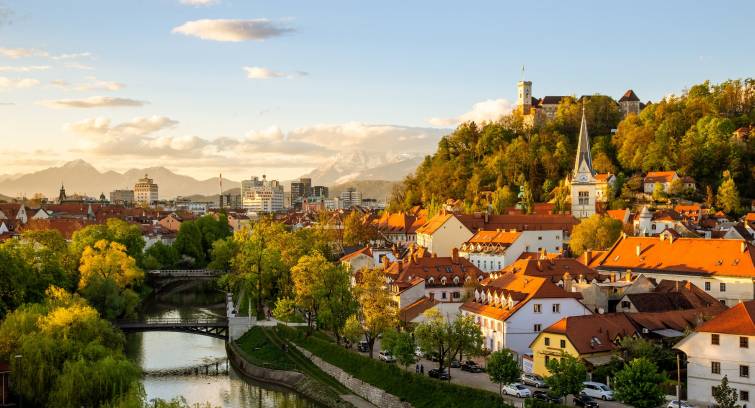 This tiny town has a lot to offer tourists. With its abundance of museums, galleries, and cultural landmarks, this pedestrian-friendly city is ideal for history buffs and art lovers. In addition to being a beautiful city, this is the ideal location to explore Slovenia because you are surrounded by it. The Julian Alps, Lake Bled, Lake Bohinj, and the Ljubljana Marshes are all close by. Charm and beauty are excellent adjectives to use when describing Ljubljana. Let's start with the old town, which is a walker-friendly area that is picturesque from every angle. The city's iconic Triple Bridge can be seen while strolling through the old town's cobblestone streets, along with colourful buildings and historical sites.
You can enjoy the charming cafes and restaurants that line the charming streets of the old town. This area of the city has a lovely, serene atmosphere, making it a great place to people-watch and admire Ljubljana's beauty.
Old Town 
Prešernov Square, the heart of historic Ljubljana, was once a medieval crossroads near the city's former entrance. It includes three of Ljubljana's most recognisable landmarks: the Plenik's Triple Bridge, the poet France Prešeren statue, and the Franciscan Church's pink facade. Also, we have locations in the heart of Ljubljana where you can use CARWIZ to rent a car.
Cultural Attractions
The cultural offerings in Ljubljana are comparable to some of the best in Europe. During your stay in Ljubljana, you can visit a variety of galleries, museums, and theatres. The Slovenian National Museum is a fantastic place to begin. You can learn everything about Slovenia's past through exhibits and historical artefacts by spending a couple of hours here. The next location on your list should be the Museum of Modern Art. This gallery, which features contemporary work by Slovenian and foreign artists, is a very well-liked attraction. You can watch plays and dance performances at the Slovenian National Theater if you enjoy the theatre. This theatre hosts events all year long, and you can see performances of international renown here. If you enjoy music, consider scheduling your trip around one of the many festivals held in Ljubljana each year. These include the Ljubljana Jazz Festival and the International Music Festival Ljubljana.
Sustainable Practices
Ljubljana is one of Europe's most environmentally friendly cities, although you may not be aware of this. The town places a high value on environmentally friendly procedures and is a leader in this field that many other cities are using for inspiration. Some of these eco-friendly practices, like excellent public transportation, bike-sharing programs, and pedestrian-only zones where you can sightsee in peace, can really help you while you're on vacation in Ljubljana. Ljubljana has a fantastic public transportation system that is both efficient and environmentally friendly, which is a huge perk for tourists.
Gastronomy
Ljubljana is a fantastic option if you're a foodie who wants to spend your vacation trying every type of regional and international cuisine you can. Try the Slovenian delicacy Kranjska Kobasa if you're looking for something regional to eat. This kind of sausage is offered in a number of restaurants throughout the city. In an effort to reduce waste, Ljubljana is renowned for its seasonal cuisine that emphasises locally sourced produce and ingredients. You will also find several locally made wines and beers in Ljubljana.
Ljubljana has a vibrant cafe scene that makes for a pleasant morning activity in this Slovenian city. You will find ample amounts of cafes to choose from to enjoy a coffee and a pastry. Potica, a sweet bread with a choice of fillings, is a traditional Slovenian pastry that you simply must try while there.