DESTINATIONS
Chefchaouen
Built on a mountainside, Chefchaouen is a city with special vibes. With its blue-rinsed houses, the whole city seems to be bathed in azure and gives an impression of unreality.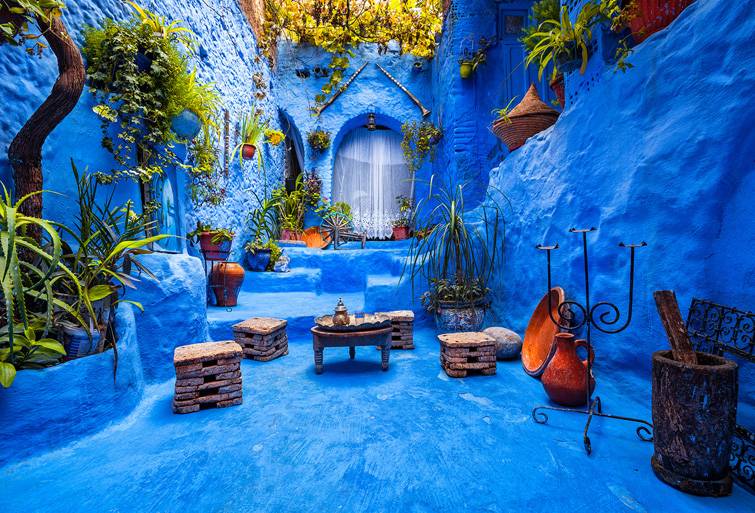 The number one reason to visit Chefchaouen is for its beautiful streets, filled with houses painted with a variety of blues. There are many theories as to why the walls are blue. Some say it's for practical reasons, such as keeping mosquitoes away or keeping the houses cooler.
Others say that the blue represents sky and heaven, the colors of the Mediterranean sea, or the nearby Ras el Maa waterfall. Now, locals continue to paint their houses blue, either in line with these traditions, or to keep attracting tourists, who visit Chefchaouen for its picture-perfect streets.
Chefchaouen is much quieter and calmer than other cities in Morocco, so you can spend hours here calmly wandering the blue alleys, and taking photos of cute porches and doorways in the sun. The blue houses of this city are easily the top thing to do in Chefchaouen!
In the main square, sits the Kasbah: an old Moroccan fort. This building has served many purposes through the ages, most notably as a prison, and now it is an ethnographic museum and art gallery. Inside there are also beautiful Spanish-style gardens, which provide a nice area of calm away from the city. Learn about the fascinating history of this area, through the ancient artifacts, clothing, instruments, and traditional decorations and crafts on display. The fort tower can be climbed to discover beautiful views over the city.
The flavor of Moroccan food is unlike anything else. On each corner of the cute streets, you will find homemade bread baked by people in their wood-fired ovens. At restaurants, they serve typical Moroccan dishes of couscous, fish, spices, and vegetables. Enjoy sitting on beautiful Morrocan cushions, in romantically lit dining rooms, eating tagine out of a locally made tagine bowl – a truly authentic way to understand the culture of Morocco and Chefchaouen.