Destinations
DHERMI, ALBANIA
The Albanian coast has become an increasingly attractive location for tourists in recent years. See for yourself, and visit this small place on the Ionian Sea called Dhermi. Dhermi has many beautiful beaches and interesting natural and historical sights, while great mountains meet with beautiful olive groves and fields of Mediterranean plants.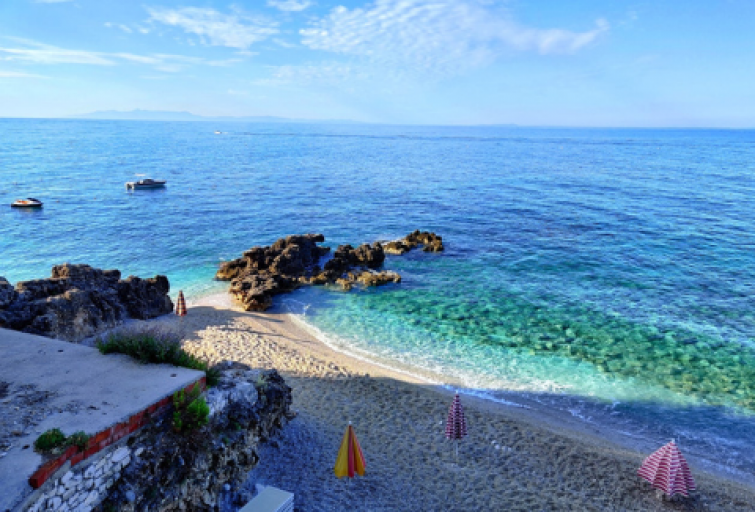 Beaches are surrounded by mountains and offer an amazing view, with many fun activities for everyone. From swimming and sunbathing, adrenaline activities and games for children, beach volleyball and many bars, all the way to complete peace and relaxation in nature.
In addition to the city beach, there is also a very quiet beach nearby, called Perivoli, which stretches along 3 km of the coast. The  Drymades beach, which is said to be the most beautiful in all of Albania, is very close to Dhermi as well. Located in a small bay, it's surrounded by a pine forest, while a large rock separates the pebbles from the sandy part of the beach. 
While in Dhermi, rent a boat and head to Gjipe Bay where you can go through the 4km long Gjipe Canyon and see the Petasma Waterfall. In addition to that, you can visit the Pirate's Cave, which can only be accessed by boat. 
There are several historical sights in the area that are worth visiting, such as the Monastery of St. Theodore, the church of the monastery of Panagia and the church of Hypapante that reveal details from the history of this coastal part of Albania. Dhermi is also known for its white stone houses with blue windows, which is why many call it the Albanian Santorini.
The hospitable residents of this small town also offer delicious traditional Albanian food, fresh fish and seafood at very affordable prices. You can even buy olive oil and honey in many places in the village, as a souvenir and a reminder of this beautiful place. 
In order to fully experience all these interesting places, you'll need a car, so head to your nearest Carwiz office in Albania and start this unforgettable journey along the Albanian coast.