Destinations
Krka National Park
Beside the fertile olive groves, in the abundant greenery of preserved nature, you'll find a most beautiful jewel of this part of Croatia: the Krka National Park.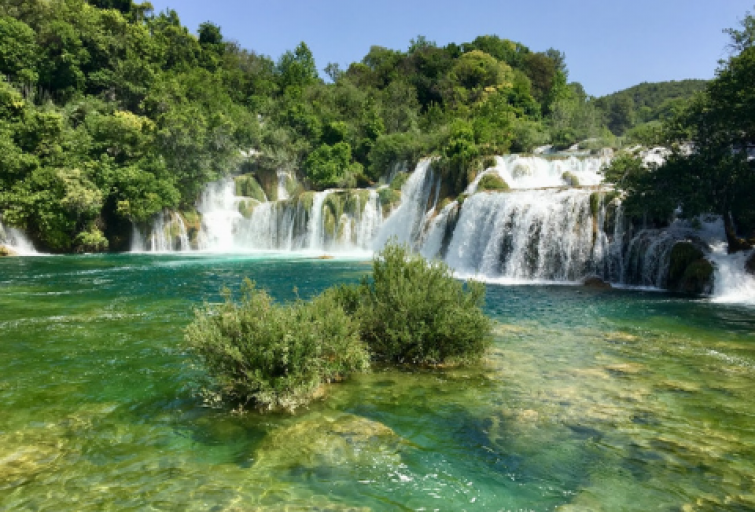 | | |
| --- | --- |
| Climate and temperature:  | Mediterranean, one of the sunniest regions in Croatia, summer temperatures averaging around 25 degrees, and winter temperatures generally do not go below seven, snow is extremely rare. |
| Ticket prices:  | 30 to 180 kunas, depending on the month and the season, children and groups get discounts. |
| Required program:  | Roški waterfall, Visovac monastery, Skradinski buk, Oziđana cave, monastery Krka, numerous vantage points, souvenir shops in the old mills, the Festival of folk tales, legends and myths. |
No epithets and photos that can describe it, as your hosts will tell you.
If you rented your vehicle in Zadar, head down to the picturesque town Skradin, enjoy coffee on the waterfront while watching the yachts in the marina, and board a boat to Skradinski buk, the most impressive waterfall which gushes from 45 meters over 17 cascades, in the heart of the sparkling travertine rock, with the clatter of renovated mills, which for centuries use the power of the water flow.
It's a special experience to enjoy the water under the explosive, amazing waterfall, which is even allowed here. The currents are strong and pull in the opposite direction, but the challenge is to get as close as possible to the centre of the sparkling waterfalls. After freshening up in the crystal clear water, go for a walk alongside tracks and bridges with wooden fences (three tracks are circular - Skradinski buk, Roški waterfall and Krka Monastery), while the educational boards will teach you about local flora and fauna, as well as historical and cultural attractions.
Stop at one of the lookouts that offer magnificent views or turn to a souvenir shop in the old mills where you can find woven bags, caps, and old folk jewellery and pottery. The enchanting landscape will take your breath away at Roški waterfall, a mighty waterfall with countless cascades and travertine islands, and attractive mills on the left bank, some of which are still in use today. For those with a adventurous spirit 517 wooden stairs await on Ogrlica (a series of small cascades on Roški waterfall) leading to the mysterious Oziđanu cave, with an impressive archaeological collection.
A priceless experience is certainly a visit to the island of prayer and peace, Visovac, anchored in the middle of Visovac Lake with which it makes a beautiful landscape, and its Franciscan monastery is considered a fortress of spirituality and faith.
Happy trails and veni, vidi and come back!