Destinations
LAKE MYVATN IN WINTER
Lake Myvatn is a wonderful place to visit in the winter season.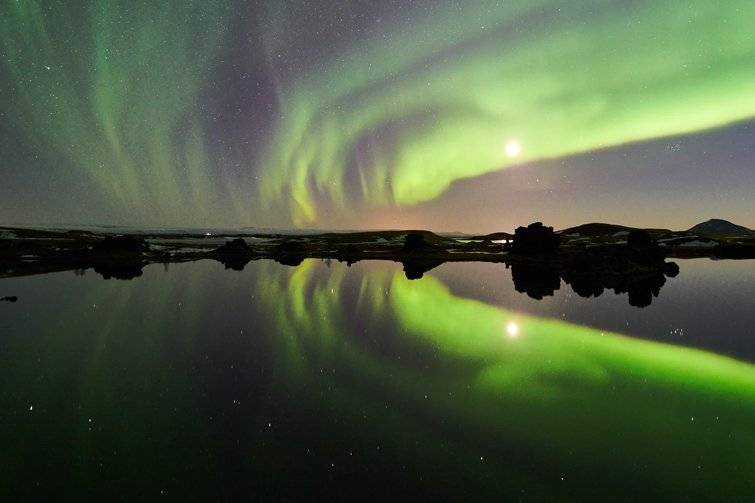 Even if you have already visited it during one of the 3 other seasons, it is worth paying a visit also in the winter. The best and most spectacular view is, of course, when the lake freeze and the area around the lake covers with snow. That's almost every winter from December to February when temperatures in this area are often below 0. If there have been heavy snowfalls it can happen that the roads to and from Myvatn are closed but it's not often it happens.there is a lot to do and see here in the winter like for example Myvatn Nature Baths: offers something for everyone. Despite its northerly location.
While winter brings its own tapestry of snow, sparkling frosts, and frequent opportunities to enjoy the unforgettable splendor of the Northern Lights. Guided tours Myvatn : There are a lot of companies in this area that offer great tours of the area for you. By the lake is a farm that offers a coffee place inside the stable: If you visit our Vogafjos-Café you can see the cows through windows. It is also possible to taste the fresh, warm milk direct from the cows.
 All major services are provided in the village of Reykjahlid, such as a mini supermarket, bank, post office, health care centre, school and swimming pool. At Lake Myvatn, different types of accommodation are available as well as good restaurants and cafés.Traveling to Myvatn Lakes by car is usually not a problem, in the case of snow or heavy snowfalls be sure to check the conditions on the road on the vegagerðin website before going on a trip. Rent a four-wheel drive car with and go for a snow adventure! Whether you are traveling alone or with a family, whether you are a fan of Compact SUVs or full-size SUVs, anyone can find the ideal vehicle on our website www.carwiz.is