Destinations
SIGULDA
There is a great place in Latvia called Sigulda, which combines a variety of enticing natural, historical and even athletic destinations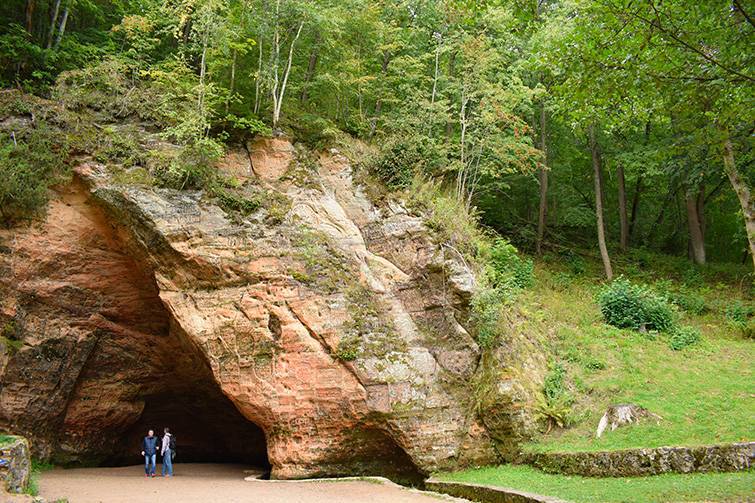 Turaida castle

The castle's foundations were laid on the right side of the Gauja river valley in 1214. The Turaida museum and preserve, which has an area of 41 ha, houses 37 historical buildings. Since undergoing reconstruction, the castle has regularly hosted a variety of festivals, events, and exhibitions related to Latvia's ancient cultural heritage.
---
Sigulda caves
- Gutmanis cave (Gūtmaņa ala). This natural formation dates back to about 10,000 years ago when water started eroding local sandstone during the last Ice Age. 18.8 meters deep, about 12 meters wide and 10 tall, it has a floor surface area of around 170 square meters, making it the largest in the Baltics and one of the most popular tourist destinations.
- Devil cave (Velnala). Formed in the Velna klints sandstone cliff, it measures 19 meters deep, 7 wide and 4.7 tall. According to folk legend, it was occupied by the devil, who would wait here until nightfall. Descending this cave is now strictly forbidden, but visitors are welcome to admire it from the nearby footbridge.
Gauja National Park
The national park includes around 500 monuments of Latvia's historical heritage – ancient city mounds, churches, stone castles, and manors. During a walk along the nature paths within the preserve, you will often see local wild animals in their natural habitat – foxes, wolves, roe deer, moose, lynxes, and boars.
---
Tarzans extreme entertainment complex for the whole family
Tarzans is a sports and adventure park with 8 treetop courses for 80 obstacles ranging from the simplest to utterly daunting, an individual harness catapult for those who wish to experience weightlessness firsthand, and a variety of entertainment options for small children.
The Forest Cat (Mežakaķis) park features 6 obstacle courses in a variety of difficulties with 82 total obstacles, forest cycling paths, and a beach volleyball court.
Aerodium is a vertical wind tunnel that welcomes anyone from 5 to 75 years old to float on a powerful stream of air without requiring a parachute. Important preliminary briefing that teaches the basics of wind tunnel safety will be delivered by expert Aerodium flyers.