DESTINATIONS
A Hidden Gem in Central Europe: Slovenia
You could spend all day immersed in Slovenia's fairytale landscape, which includes turquoise lakes, vibrantly painted towns, and snow-capped mountains.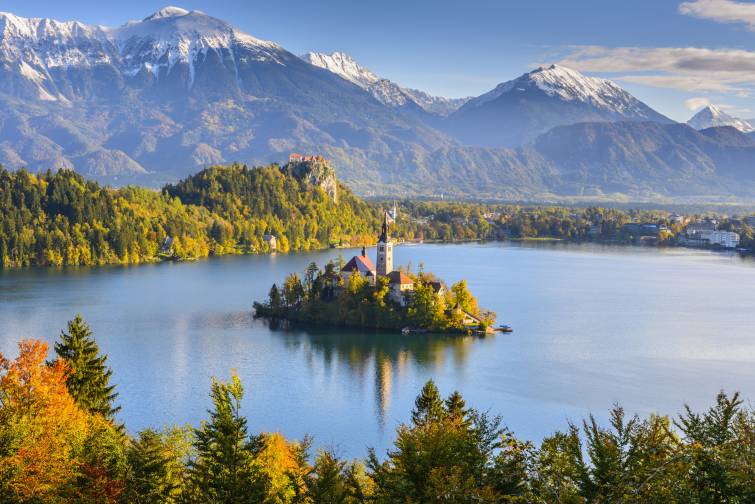 Bled
Lake Bled is a popular weekend getaway destination in northwest Slovenia's picturesque Julian Alps region. With a distance of 35 km from the airport and 55 km from the center of Ljubljana, it is conveniently accessible from the country's capital. You can rent a car from the Carwiz offices at the airport and the city's main square.
This lovely lake is surrounded by breathtaking natural beauty and many tourist attractions. Bled is mainly famous as a winter wonderland, thanks to its snowy peaks and frozen lake, making it a sought-after destination for winter enthusiasts. However, the summer months are also ideal for visiting, as with most natural attractions.
According to experts, spring is the optimal season to explore this idyllic location. During this time, you can enjoy the area's tranquility, breathe in the fresh air, and bask in the warm sun. It's the perfect time to appreciate the pristine beauty of Lake Bled without the crowds.
Of course, swimming is an obvious one and is one of the must-do activities for any Lake Bled day trip. It will be challenging to resist diving right in when you see the blue water, especially during the sweltering summer months. Many places along the western bank offer quick access to the warm waters. The hills surrounding Bled are home to many high-adrenaline activities for the more daring adventurer. Rafting is a popular activity in Slovenia. 
Whether you visit during the winter or summer, Lake Bled, and its surrounding attractions offer a mesmerizing experience for travelers seeking a weekend getaway or a memorable holiday. Lake Bled is the ideal option if you're looking for a place to relax and recharge.
Bled Castle
Above Lake Bled is the magnificent Bled Castle. Imagine a romantic lake with an island dominated by a large castle perched on a sheer cliff. This picture is probably not going to leave your mind. Believed to be one of the oldest castles in the country, it dates back to the 11th century and is located on a hill overlooking Lake Bled and the Julian Alps. Visitors can explore the castle's well-preserved Romanesque-style chapel, dedicated to St. Ursula, which
The terraced gardens of the castle, which are adorned with flowers, herbs, and trees, offer a tranquil setting for a stroll and breathtaking views of Lake Bled and the surrounding alpine landscape. Visitors can also partake in traditional medieval pursuits like archery and printing workshops at the castle. The vibrant atmosphere of Bled Castle is enhanced by the numerous cultural events, concerts, and performances it hosts throughout the year. It's a captivating destination for history enthusiasts and nature lovers alike, providing a glimpse into the past while enjoying the breathtaking beauty of the surrounding landscape.
A fun day at the castle in Bled left you feeling hungry? Your taste buds will be spoiled at Jezerek's restaurant as you take in the breathtaking views of Lake Bled. You can find trendy, upscale dishes made with ingredients from your area and locally on their menu. Jezerek's talented team of chefs crafts culinary offerings appropriate for official visits, tourist groups, and individual customers while collaborating closely with regional suppliers.
Lake Bohinj

Known for its pristine natural beauty and serene atmosphere, Lake Bohinj is Slovenia's largest permanent lake, surrounded by lush forests, majestic mountains, and charming alpine villages.
One of the main reasons to visit Bohinj is its stunning natural scenery. The lake is a crystal-clear, emerald-green gem nestled in a scenic valley, offering breathtaking panoramic views of the surrounding mountains, including Mount Triglav, the highest peak in Slovenia. The area is also dotted with waterfalls, caves, and rivers, making it a paradise for outdoor enthusiasts and nature lovers.
You could easily explore Lake Bohinj and its surroundings over a long weekend. Spend one day exploring the town center, strolling the lake trail, and climbing Mount Vogel to enter the Triglav National Park. And that's before going on a hut-to-hut hike through the Julian Alps or continuing to hike around the lake.
Bohinj offers a wide range of outdoor activities for visitors to enjoy. The lake is perfect for swimming, kayaking, and stand-up paddleboarding during the summer. In winter, it transforms into a winter wonderland, offering opportunities for ice skating, snowshoeing, and cross-country skiing.
The region is also known for its excellent hiking and cycling trails, with options for all fitness and experience levels. One of the most famous trails is the scenic Bohinj Alpine Trail, a long-distance trek that takes you through the stunning alpine landscapes of the Julian Alps.
Bohinj offers a rich cultural heritage, natural beauty, and outdoor activities. Numerous charming alpine villages with traditional architecture and regional practices can be found in the area, where you can get a true sense of Slovenian hospitality and culture. Bohinj is also a gateway to the Triglav National Park, one of the oldest national parks in Europe, offering further opportunities for outdoor adventures, including mountaineering, canyoning, and wildlife watching.
Overall, Bohinj is the ideal location for anyone looking for a peaceful getaway, a pure wilderness retreat with access to outdoor activities, cultural experiences, and breathtaking alpine scenery. It's a must-visit for nature enthusiasts, hikers, cyclists, and those looking to experience the beauty of the Slovenian Alps.