DESTINATIONS
A place of rich history, art, and gastronomy: Bologna
Bologna is a unique city that is just waiting to be discovered, and it is also full of oddities and legends.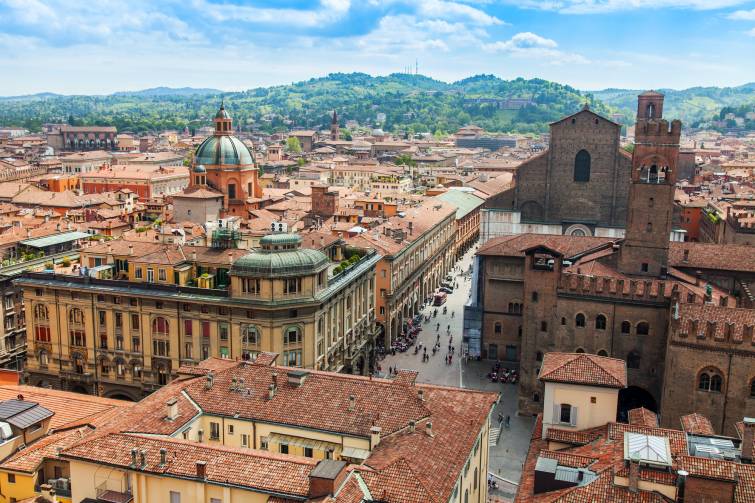 For its friendly atmosphere and rich cultural, historical, and artistic heritage, Bologna is well-known throughout the world. Beautiful churches, museums, gardens, renowned porticoes, and medieval squares, not to mention the world-famous and lauded Bolognese cuisine. 
A weekend in Bologna is made even more fascinating and memorable by a few interesting facts about the city. Many visitors are curious about the top things to do in Bologna and the most stunning locations to see in the city. This is the place for you if you want to immerse yourself in a strange and hidden Bologna away from crowded artistic attractions or if you are looking for strange things to do in Bologna to make your trip unforgettable. Bologna is easily accessible from other major cities in Italy via the country's modern highway system if you are traveling there by car. Recently, our new CARWIZ office was opened in Bologna, and now you can rent a car there.

You can visit dozens of breathtaking churches and towers from the Middle Ages in Bologna, a city that was a gem during the Medieval era. Bologna is filled with impressive ancient structures and stunning architecture. The city's old historic district, which is primarily pedestrian-only, is a charming place to explore, and the green neighborhoods that surround the city's core are filled with parks, trees, and public spaces where people can relax. The city is renowned for its porticoes, which number over 600 and are so distinctive that they were designated a UNESCO World Heritage Site. Of course, the local cuisine in Bologna is the main attraction.
Piazza Maggiore
The obvious place to begin a visit is in the center of the city, on Bologna's main square. This square is one of the oldest in Italy and dates back to the Middle Ages (1200s). The square is the ideal place to start adjusting to the neighborhood vibe, the stunning architecture, and the rhythms of the city. Take a break to sit and watch people passing by the piazza while you enjoy a drink or a coffee at any nearby cafe. The main structures you will see are the various palazzi, including the Palazzo dei Notai, Palazzo d'Accursio, which has a distinctive clock tower, Palazzo dei Banchi, and Palazzo del Podestà. Take a look at the Saint Petronio church as well.
Saint Petronius Basilica
Back in 1390, at least eight churches and towers were destroyed to make room for the building of this church. The basilica is more than 130 meters long and rises to a height of 47 meters at its highest point. It has an imposing facade and an impressive covered surface. Saint Petronius, a basilica that is among the largest in the world and is devoted to the city's patron saint, is the most remarkable religious structure in the area. 
Archiginnasio Palace
A significant structure that was formerly part of the University of Bologna was the Archiginnasio Palace. Paying a few euros to enter the anatomical theater, which was built in the 17th century, is currently one of Bologna's more underrated hidden gem activities.
Gastronomy
A food tour in Bologna will allow you to sample some of the city's most original and distinctive Italian culinary creations, such as Aceto Balsamico di Modena, Tortellini, Tortellonim, Tagliatelle alla Bolognese, Ragù sauce (also known as Bolognese), Parmesan cheese, Ham from Parma, Mortadella (a traditional cold cut that is also known as "Bologna"), and Pignoletto wine. These are just a few of the incredible foods available in the various osterie, restaurants, and trattorie that most organized food tours take you to, including the various food street markets and Bologna's central Quatrilatero Market.