DESTINATIONS
High Atlas
The High Atlas, North Africa's greatest mountain range that runs across Morocco for almost 1000km, is a trekker's paradise from spring through to autumn.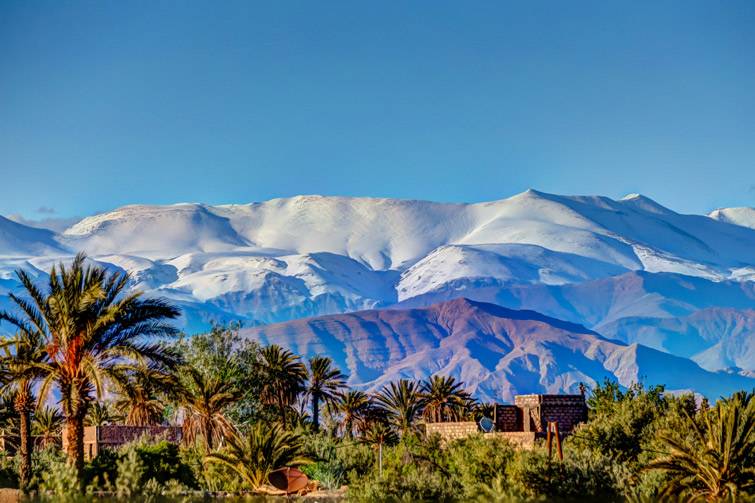 The High Atlas Mountains in Morocco are a majestic and breathtaking range that offers visitors a chance to experience the country's rugged and beautiful landscape. The mountain range runs through central Morocco and is home to some of the country's highest peaks, including Toubkal, which stands at an elevation of 4,167 meters.
A popular destination for hikers and climbers, as it offers a variety of challenging routes to summit peaks, including Toubkal, which can be climbed in a single day by experienced hikers. The mountain range also offers a great deal of cultural and historical significance, as Berber villages dot the landscape and provide a glimpse into traditional Moroccan life.
The scenery in the High Atlas is diverse and striking, with rocky peaks, lush valleys, and vibrant wildflowers. The range is also home to a wide variety of wildlife, including Barbary macaques, mountain goats, and eagles. The region is also rich in minerals, and mines for lead, zinc, and phosphate dot the mountains. In the winter, the High Atlas Mountains are also a popular destination for skiing and snowboarding, thanks to the Toubkal National Park, which was opened in 1942.
Visitors can also experience the traditional Berber culture by staying in a traditional Berber home, known as a kasbah. Many of these kasbahs have been converted into guesthouses and offer visitors a unique opportunity to experience the traditional way of life in the High Atlas Mountains.
The High Atlas Mountains offer visitors a chance to experience the natural beauty, culture, and history of Morocco. With its stunning scenery, diverse activities, and rich cultural heritage, the High Atlas Mountains are a must-see destination for any traveler to Morocco.