Destinations
Ölüdeniz
The Unique Beach of the Mediterranean : Dead Sea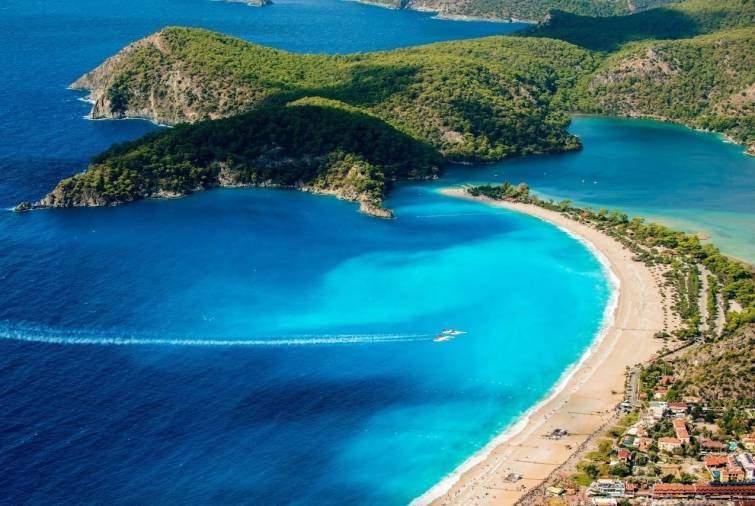 With its high potential for tourism, Ölüdeniz became one of the most beautiful resorts in Fethiye-Muğla. Since the beginning of the 1990s, its popularity has been rapidly increasing. With a rising number of visitors each year, the municipality of Ölüdeniz has advanced the town's infrastructure and focused on the enhancement of comfort for the visitors. With such interest to expand the town's capacity, Ölüdeniz has now become one of the most comfortable resorts in Turkey.
What to do in Ölüdeniz?
Paragliding Experience in Ölüdeniz
You can enjoy paragliding from 1975 meters high Babadağ, down to the wonderful Belcekız. Accompanied by an experienced pilot, you can embark on this adventure that lasts around 30 to 40 minutes.
Scuba Diving in Ölüdeniz
Ölüdeniz offers a variety of diving activities that allow you to explore its crystal clear waters and rich underwater caves and fauna. Scuba diving is the most popular underwater activity. Local diving agencies provide courses and offer required scuba diving licenses. Diving tours are arranged daily and weekly and give you an opportunity to gain your diving certificates. Another diving activity is snorkeling, which is available on many sites.
Places you must see:
Kelebekler Vadisi (The Valley of The Butterflies)
Gemiler Adası (The Island of the Ships)
Hisarönü
Ovacık
Belceğiz-Ölüdeniz Tomb of Amyntas