Destinations
ŽIŽKOV - PRAGUE'S MONTMARTRE
Just 150 years ago, east of the Old Town gates were only vineyards, pastures and some homesteads.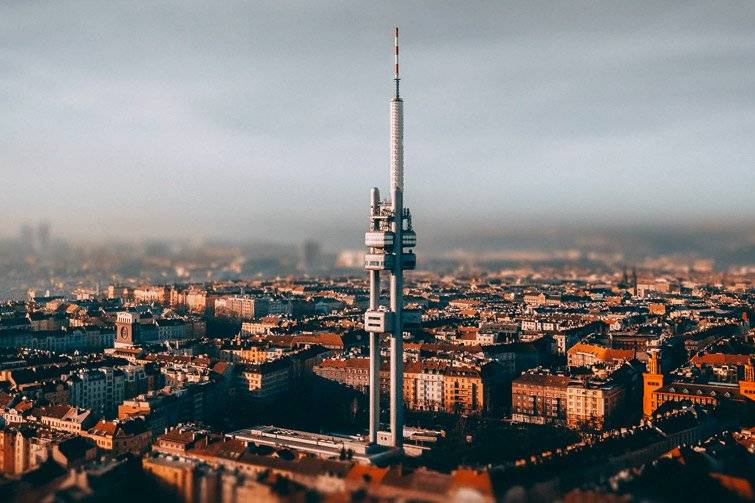 he population and industrial boom in the last quarter of the 19th century quickly turned the hilly territory at the foot of Vítkov Hill into an idiosyncratic and picturesque district of apartment buildings, free of any overall architectural concept. Its unmistakably bohemian (with a small b) legacy has always been largely down to its local residents – labourers, hustlers, students, and artists of all kinds. Although the wheel of history has turned a great deal since then, luckily the local 'free-wheeling' atmosphere remains. Welcome to the district that never sleeps.
Welcome to Žižkov!
The construction of what was then a new city district just beyond the outer boundary of the metropolis began in 1865, but it first appeared as a separate urban complex on the map of Prague only a decade or so later, as the Královské Vinohrady I. 'Royal Vineyards I'. Its official title "Žižkov", inspired by the name of the famed Hussite military leader from the 1st half of the 15th century came in 1877, put forward by the ebullient builder and first local mayor, Karel Hartig. The idea was born of his strong patriotic and nationalist sentiments, as documented by the historical names on many local streets. Žižkov was promoted to a town by the decree of Emperor Franz Joseph I in 1881, prompting its meteoric growth – ten years later there were over 42 thousand inhabitants in more than 750 houses. This self-assured enclave soon won itself the epithet of Prague's Montmartre, after its namesake, the arty district in Paris, mostly due to its hilly aspect full of steep, narrow streets, stairways and small squares, and the local bonviveur community. It was, at one time, home to the 'king of Czech bohèmes' the writer Jaroslav Hašek who wrote 'The Good Soldier Schweik' (he lived at the Golden Angel house on the corner of Husitská and Jeronýmova streets). His stay at Žižkov is commemorated by a zany equestrian bust on Prokopovo square. 
After World War II the building boom resumed, complete with more modern transport and technical infrastructure. The face of Žižkov was marred only by the sweeping redevelopment of the 1980s. Dozens of memorable original buildings were pulled down, and unsightly Socialist high-rises put up in their place. Luckily, the Velvet revolution of 1989 stopped the wholesale devastation of this distinctive district; historical Žižkov was largely reprieved. Although the current construction and reconstruction of historical houses has gradually been giving Žižkov more of a residential air, it remains an unconventional and 'whimsical' place, full of its own culture, students and bustling night life, cafés, bars, and pubs, tucked-away courtyards and pawlatsche houses. Žižkov makes no pretence for its visitors, and while it can be a bit rough and ready, it is a no-nonsense, authentic, genuine place in itself – and therein lies its unique appeal.
Not to be missed:
National Memorial on the Vítkov Hill, U Památníku 1900
The dominant symbol of Žižkov, offering panoramic views of Prague. This Functionalist monument was built in honour of Czechoslovak Legionnaires and currently features two permanent exhibitions – 'The Crossroads of Czech and Czechoslovak Statehood' and 'The Laboratory of Power'. Looming unmissably, the monument to the Hussite military leader Jan Žižka is one of the largest equestrian statues in the world.
Žižkov TV Tower, Mahlerovy sady 1
An attribute of modern Prague and at 216 meters the tallest building of the metropolis; apart from the technical stuff, it houses a luxurious six-star hotel suite, the One Room Hotel, the Oblaca restaurant, a bar, café and a panoramic viewing room with breathtaking views of the city. The tower is dotted with weird crawling infants sculpted by David Černý.
Old Jewish Cemetery in Žižkov,  Mahlerovy sady
This served the Prague Jewish community as a major site of remembrance since 1787. There are many wonderful gravestones from the 18th and early to mid 19th century marking the graves of many prominent Jewish figures. The cemetery lies right beneath Žižkov TV Tower – a seldom-seen and bizarre juxtaposition of an old burial ground and a modern technical building.
Church of St Procopius, Sladkovského square
This neo-Gothic architectural masterpiece of the Žižkov district dates from 1899-1903 by the architect Josef Mocker. Its main portal bears a relief of the Madonna and Child Jesus, to whom St Procopius is handing a model of the church. Inside can be seen, inter alia, a rare picture of Saint Wenceslas dating from 1649 by Karel Škréta. The main gable features a 73 metre high tower.
Seifert Memorial - junction of Seifertova, Chelčického and Táboritská streets
Žižkov is inextricably tied to the only Czech Nobel Prize winner in literature, Jaroslav Seifert, who was born there and educated at the local grammar school. The renowned poet's life is commemorated by a plaque on the house of his birth (in Bořivojova street 104) and with an interesting ribbon-styled memorial stone.
Bethlehem Chapel , Prokopova 10
Inside this block of apartment buildings you can find a discreet but extremely interesting Cubist chapel with late Art Nouveau elements. It was built in 1914 by architect Emil Králíček and today serves as a concert hall and a charitable centre in addition to its religious role.
Olšanské Cemetery, Vinohradská 153
The largest graveyard in Prague spanning over 50 ha (123 acres) with the mortal remains of some two million deceased. The memorial complex is composed of twelve subsidiary cemeteries. It is the final resting place of prominent Czech figures e.g. the student Jan Palach, Miroslav Tyrš the founder of Sokol, the poet Karel Jaromír Erben, the writer Karel Havlíček Borovský, Czech painter František Ženíšek or the actors Jan Werich and Jiří Voskovec. One of the most sought-after is the grave of Franz Kafka (tomb 21-14-21) at the New Jewish Cemetery.